BCGC Plant Sale
Thursday, May 11, 2023, at 9 a.m. to noon, Montgomery County Farm Women's Market, downtown Bethesda
This public sale is our biggest event and only fundraiser.
Enthusiastic buyers arrive early and plants sell out quickly!
How can you support the Plant Sale?
When you thin your overgrown plants from your own garden this spring, pot and donate excess plants.
Help us dig and pot plants in members' gardens. We love working together outdoors!
Help publicize the sale, transport plants, setup, sales, or provide food for volunteers at the sale. There is something for everyone! Sign up closer to the sale date.
Watch for Plant Sale Tips that will arrive regularly in email blasts.
Which plants to donate?
Most plants, even those that spread enthusiastically or that you may consider run-of-the-mill.
We cannot accept: unidentified plants and nonnative invasive plants like English ivy, creeping euonymus, barberry, common daylily, pachysandra and vinca minor. If you don't know what it is or if it's a good candidate for donation, ask us.
How to dig and pot your plants for the sale
All plants are best potted by mid-April, so they look healthy and full when sold.
When you do regular spring maintenance, have pots, soil and plant labels ready. Pick up pots and plant labels at the homes of Barbara Collier, Susan Lass, and Judy Termini. Please contact them before showing up in person.
We sell plants in three pot sizes: medium (6-8 inches diameter); large (9-12 in.) and "shrub" (larger than 12 in.). Special plants (e.g. trillium, jack in the pulpit) may be sold in 4" pots, but ask us first.
Water the plant to be dug the night before.
Dig your plant by removing the full root ball.
Look at the foliage and root ball to determine what size pot to use. One full pot is better than two skimpy pots.
Pot the plant by placing some leaves in the bottom of the pot, then cover with a little soil. Keep the root ball as intact as possible. Place the plant at the same soil height as it was growing. Fill the sides of the pot with soil and press down.
Water well and keep the plant in the shade for the first few days after potting.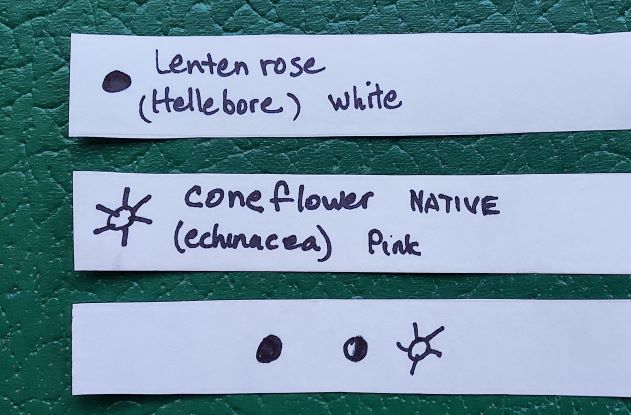 Label each plant with its botanical and common names, flower color and light requirements, as shown in the photo. If you know the plant is native, add that to the label. Symbols for light requirements also are shown.
Would you like some help?
Many members have beautiful gardens and would like to donate plants. If you find digging and potting physically challenging, then volunteers may be able to help you.
Are you a newer member in need of plant ID or a digging and dividing demo? Contact us as soon as possible to get on our schedule.
We do plant rescues!
Do you know of a future teardown that has a garden? Contact us, as we possibly can arrange to rescue plants from the garden for the Plant Sale before the demolition starts.
If you have a neighbor who would be willing to share excess plants, contact us.
Questions? Ask the committee!
Judy Termini (judytermini@gmail.com), co-chair
Elaine Hope (paris71197@gmail.com), co-chair
Barbara Collier
Mary Horan
Karin Kelleher
Carolyn Kulik
Susan Lass
Carolea Logun
Carol Meyers
Janine Trudeau