Club members care for and maintain the plantings at the Connie Morella Library, Bethesda, and at the Davis Library, north Bethesda. At both libraries, the work done is in partnership with Montgomery County, Library Friends groups, civic associations, and the librarians who work there.
---
Connie Morella Library garden
BCGC volunteers, with funds raised by the club, have supported the landscaping at Connie Morella Library, Bethesda, since the current facility was built in 1976. Friends of the Library contributes some financial support, and Bethesda Urban Partnership helps water trees.
Club volunteers maintain well-established gardens along the west wall of the parking lot, on the slope between the building and Arlington Road, and on the sides of the library which are visible to library patrons. In the last five years, we have planted 19 trees and attended to neglected areas. Like any landscape, it's a work in progress.
The photo below offers a good example of how we've recently improved a neglected space. We removed dead yews, and planted native switchgrass and flowering plants that thrive in the harsh environment next to the parking lot.
Maybe you have ideas about how to transform an eyesore into something more appealing. Volunteers and their ideas are always welcome.
Clockwise from top: budding hydrangea on the Arlington Road side of the library; container garden near the front door; brown-eyed Susan next to the parking lot
---
Davis Library garden
In 1964, the Club's offer to sponsor the landscaping of Davis Library in north Bethesda was accepted by Montgomery County. Since then, Club volunteers have maintained and replenished existing plants, weeded the many beds around this large property and planted seasonal flowers to make the gardens pleasant for library patrons.
This happy group of gardeners are some of the club volunteers that maintain the garden beds surrounding Davis Library. It is one of our community service efforts and we love doing it together. We can always use MORE help. Keep in mind there are multiple health benefits to gardening.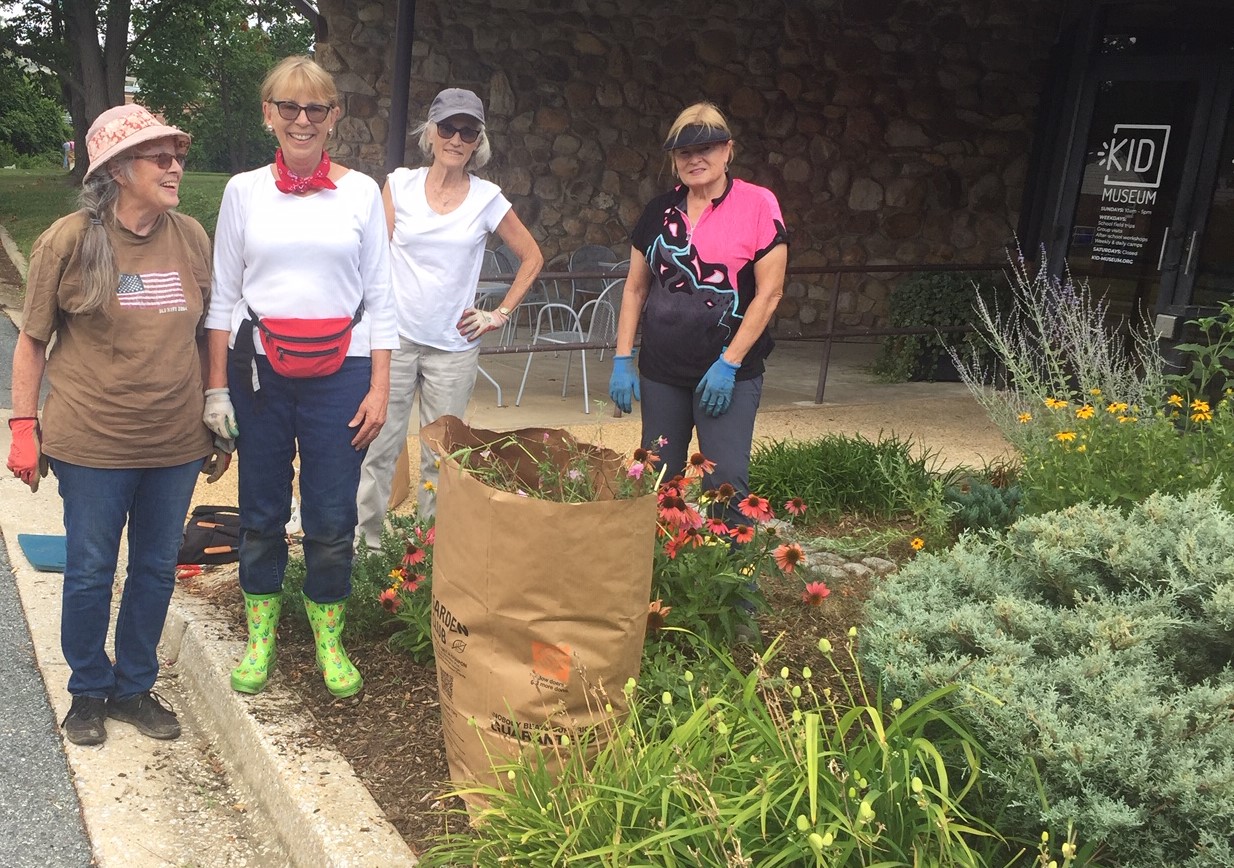 Midsummer color in the Davis Library gardens.