2019-2020 CLUB CALENDAR
September 25, 2019—Round Table
We reassemble after a summer of vacations, travel, and gardening to share our news and gardening discoveries, to mention new garden tools we've found  and new techniques we've embraced, to listen to the Euonymous'  serenade, and enjoy lunch together, reviving old friendships and enjoying each other's company.
Salad lunch 
October 23, 2019—   To be announced
Bring a sandwich to share
November 20, 2019—
Hot lunch

December 11, 2019—Holiday Greens Workshop at 10 am
Bring your clippers and gloves, greens and other decorative bits from your garden to the greens workshop. At this meeting we make small arrangements which we distribute to hospitals, nursing homes and other worthy institutions throughout Bethesda. It is a lot of fun and propels you into the holiday mood despite yourself.
Hot soup lunch

January 22, 2020 –.
Sandwich  lunch
February 26, 2020—
Soup lunch
March 25, 2020—
Sandwich  lunch
April 22, 2020—
Hot lunch

May  2020—Annual Plant Sale 
Nina Stark-Slapnik, Barbara Collier,  Kay Hager,
Elaine Hope,  Karin Kelleher, Candy Kessel, Carol Meyers, Marilyn Tenenbaum, Judy Termini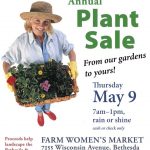 The plant sale, at the Montgomery Farm Women's Cooperative Market in Bethesda, is eagerly anticipated by local gardeners and members alike. It provides a great service as a source for locally grown plants that will almost certainly flourish in our neighborhood gardens. Start potting up your plants before it freezes, keep them outdoors in a warmish spot and keep them watered and then bring them to the plant sale in May. More detailed information follows from the plant sale committee closer to the date.
June 2020 —Club Picnic  TBA
Date and venue to be announced. Keep your eye on the club bulletin for details.

---
---
---
---
---